Kia Just Produced Its Three-Millionth Vehicle!
Over ten years ago, Kia stunned the world by breaking ground on a massive manufacturing plant in the United States. Located in Georgia, the $1.1 billion project was the ultimate symbol of Kia's commitment to US drivers and began the process of cementing Kia's foothold on the North American market. This year marks another milestone in this journey, commemorating the production of the plant's three millionth vehicle, a white 2020 Telluride SX Prestige.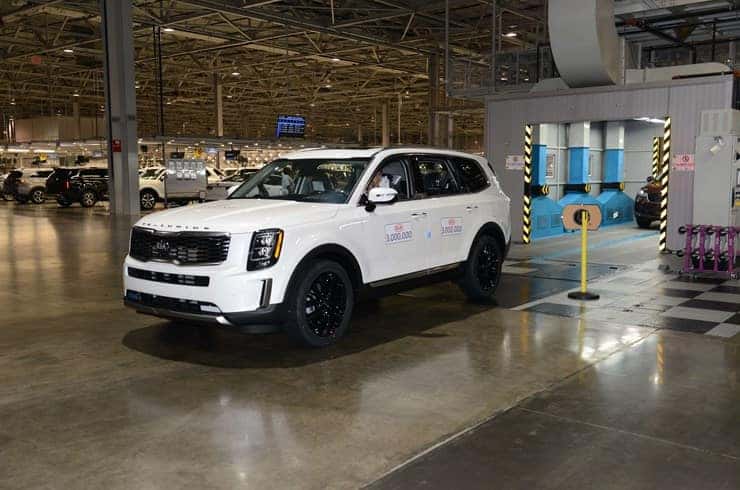 "The world-class quality that goes into every Telluride, Sorento, and Optima we build is a direct result of the hard work and dedication of our team members, and today we salute their commitment to excellence", said KMMG President and CEO Jangsoo Shin. KMMG has received numerous accolades for its quality and reliability, cited by leading entities such as J.D. Power & Associates, Consumer Reports and the National Highway Traffic Safety Administration.
The secret to KMMG's success is rooted in its commitment to the community it resides in. The governor of Georgia, Brian Kemp, summed it up best "The company's continued investment here is yet another result of our pro-business atmosphere, and I am proud to see KMMG's relationship with the State of Georgia continue to strengthen. I want to congratulate Kia's team members on the latest of many accomplishments."
Sunshine Kia of Miami is a premier dealer of Kia vehicles located in Miami. Our world-class sales team is dedicated to ensuring your car shopping experience is simple and enjoyable from start to finish. If you are interested in viewing a Kia, we carry an extensive selection of new, used and Kia Certified Pre-Owned vehicles that we would be delighted to show you. We invite you to visit our showroom at 17120 S Dixie Highway to see for yourself. We look forward to serving you!