This New SUV is a Pleasant Surprise
Keen observers have waited for years to see what Kia would bring to the table for its three-row crossover debut. Few would have expected the hulking form of the Telluride to be the result. Big and full of features, the Telluride is a pleasant surprise for those who have waited for so long.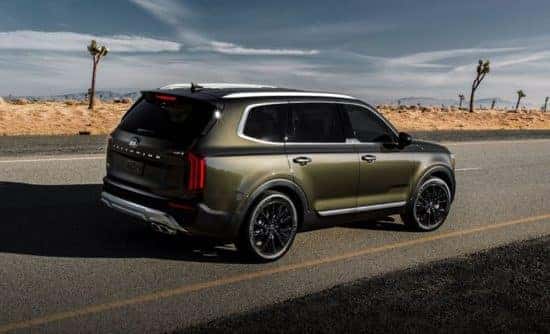 The Kia Telluride is powered by a direct-injection Atkinson-cycle 3.8-liter V-6 mated to an eight-speed automatic transmission. With 291 horsepower and 262 pound-feet of torque, this provides plenty of power to haul the Telluride and its crew to destinations far and wide. Additionally, Kia has masterfully engineered the steering and suspension of its latest offering to ensure maximum control and stability. In short, the Telluride can take you far in comfort and style.
Apart from the exceptional engineering under the hood, the Kia Telluride is also packed to the brim with features on the inside. The cabin is designed to provide comfort and entertainment for a full complement of passengers, with outstanding material quality and accents. On higher trims, premium materials like genuine Nappa leather seats add a touch of elegance and sophistication to an already superb cabin. Second-row captain's chairs electronically fold to provide access to the third-row and adjust for optimal personal space, while each row is equipped with easy-access USB charging ports. Your passengers will have plenty of room to stow their gear with an ample 21 cubic feet of trunk space. In the event you have no passengers but a need to haul, all interior seats can fold down to unlock a massive 87 cubic feet of space to meet your individual hauling needs.
In addition to ample space and comfort, the Kia Telluride is packed with tech options. From standard expectations like Apple CarPlay and Android Auto, to novelties such as Kia's DriverTalk feature that projects the driver's voice to the rear of the vehicle. Audio engineering features are omnipresent in the tech offering, with a Quiet Mode to aid sleeping passengers all the way to an available Harman Kardon 10-speaker premium audio system for when you want to turn up the volume. Kia has entertainment and comfort covered across the board.
However, the ultimate comfort is the knowledge that you and your passengers will remain safe and sound. In this respect, the Telluride particularly shines. With features such as automatic emergency braking, adaptive cruise control with stop-and-go, lane keep assist and automatic lane-centering, the Telluride's safety features are everything one expects from a modern crossover. Exceptional features, such as rear-facing radar, blind spot detection with braking and steering intervention, rear cross-traffic alerts and safe exit assistance set a new bar for what we expect from an SUV. As part of Kia's ongoing commitment to safety, most of these features are standard and available on all trims.
All in all, the 2020 Kia Telluride is a vehicle to watch and is poised to become the standard by which all three-row crossovers are judged. If you are interested in viewing a Telluride for yourself, or any of Kia's other fine offerings, we invite you to visit our showroom at 17120 S Dixie Highway in Miami. We are Sunshine Kia of Miami, and our exceptional staff will be happy to help you with all that you need.
2020 Kia Telluride | Kia Miami Dealership