What Are the Differences Between the Forte and Forte5?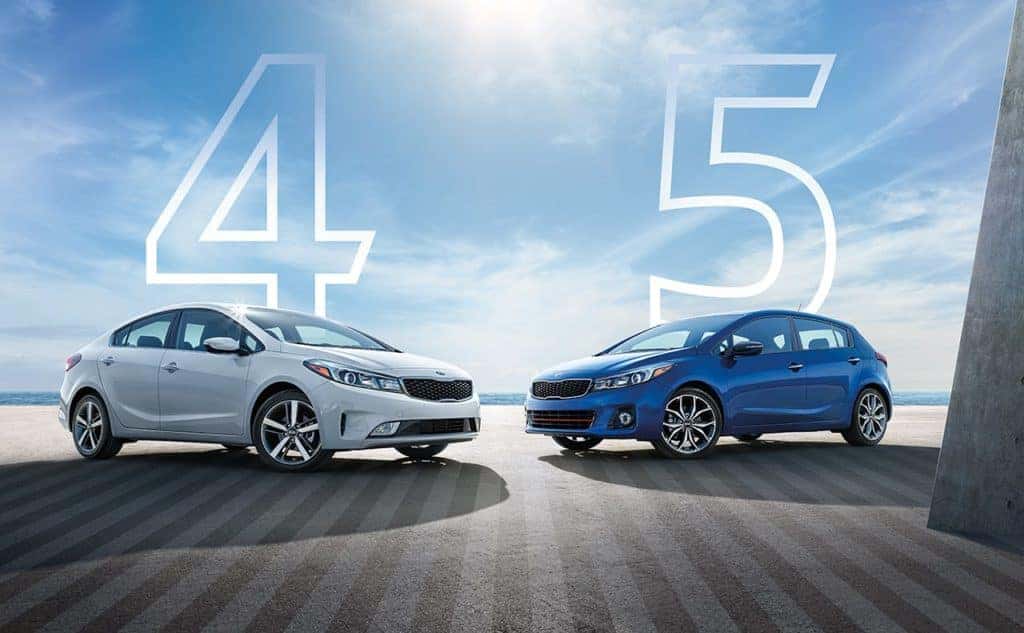 2018 Kia Forte vs 2018 Kia Forte5
What are the differences between the Forte and Forte5? Besides the obvious difference that one is a sedan and the other is a hatchback, there are some other differences between the Kia Forte and Kia Forte5. Here's a quick look at them.
Kia Forte and Forte5 Similarities
Probably one of the more important factors for a car, the 2018 Kia Forte and the 2018 Kia Forte5 have the same efficient fuel economy, so there is no love lost between them there. The Forte and Forte5 also have very similar passenger space, with plenty of room for each occupant to stretch their legs. They also share many of the same exterior features. For instance, both cars have a power sunroof available and are equipped with heated, power side-mirrors. There are also many shared convenience features that are available for both cars, such as 60/40 split-folding rear seats, auto-dimming rearview mirrors and cruise control. As well as the same standard entertainment options, like the CD player, satellite radio and auxiliary jack.
View Our New Kia Forte Inventory
Kia Forte and Forte5 Differences
Again, the biggest difference between the two cars is that the Forte is a sedan and the Forte5 is a hatchback. Looking at the chart, you can see how that changes the available cargo space for both vehicles. Also, the Forte sedan is standard with manual transmission with automatic available, however, the Forte5 is standard with automatic transmission.
Then, there are differences in the availability with certain features. For example, the chart shows the specifics for the LX trim levels on both the 2018 Forte and 2018 Forte5, indicating that a rear camera display is available for the Forte but not for the Forte5. There are many differences like that between the two cars.
| 2018 Kia Forte LX | VS | 2018 Kia Forte5 LX |
| --- | --- | --- |
| 14.9 cubic feet | Cargo Volume | 23.2 cubic feet |
| 1 | 12-volt DC Power Outlet | 2 |
| 4 | Number of Speakers | 6 |
| Optional | Rear Camera Display | Not Available |
Overall, both are quite extraordinary cars that offer a lot to drivers at affordable prices. If you are interested in a 2018 Forte or 2018 Forte5, you can stop in or contact us at Sunshine Kia of Miami for more information.